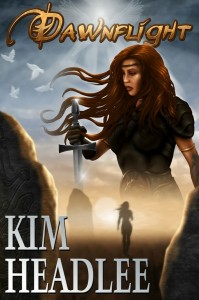 Dawnflight by Kim Headlee
Gyanhumara "Gyan" nic Hymar is a Caledonian chieftainess by birth, a warrior and leader of warriors by training, and she is betrothed to Urien map Dumarec, a son of her clan's deadliest enemy, by right of Arthur the Pendragon's conquest of her people. For the sake of peace, Gyan is willing to sacrifice everything...perhaps even her very life, if her foreboding about Urien proves true. Arthur map Uther is the bastard son of two worlds, Roman by his father and Brytoni by his mother. Denied hereditary rulership by the elders of Chieftainess Ygraine's clan, Arthur has followed Uther's path to become Dux Britanniarum, the Pendragon: supreme commander of the northern Brytoni army. The Caledonians, Scots, Saxons, and Angles keep him too busy to dwell upon his loneliness...most of the time. When Gyan and Arthur meet, each recognize within the other their soul's mate. The treaty has preserved Gyan's ancient right to marry any man, providing he is a Brytoni nobleman—but Arthur does not qualify. And the ambitious Urien, Arthur's greatest political rival, shall not be so easily denied. If Gyan and Arthur cannot prevent Urien from plunging the Caledonians and Brytons back into war, their love will be doomed to remain unfulfilled forever.


Ok so Kim and I did a Skype interview for you all!! Cool right? Well it would have been even cooler if my software had done its job all the way. What you will see and hear is Kim, and you will hear me asking her questions. Lol and my son's voice occasionally pops up too. Hope you enjoy!!!




About the Author
Kim Headlee lives on a farm in southwestern Virginia with her family, cats, goats, and assorted wildlife. People & creatures come and go, but the cave and the 250-year-old house ruins -- the latter having been occupied as recently as the mid-20th century -- seem to be sticking around for a while yet. Kim is a Seattle native (when she used to live in the Metro DC area, she loved telling people she was from "the other Washington") and a direct descendent of 20th century Russian nobility. Her grandmother was a childhood friend of the doomed Grand Duchess Anastasia, and the romantic yet tragic story of how Lydia escaped Communist Russia with the aid of her American husband will most certainly one day fuel one of Kim's novels. Another novel in the queue will involve her husband's ancestor, the 7th-century proto-Viking king of the Swedish colony in Russia. For the time being, however, Kim has plenty of work to do in creating her projected 8-book Arthurian series, The Dragon's Dove Chronicles. She also writes other romantic historical fiction under the pseudonym "Kimberly Iverson." Follow Kim:
Goodreads
/
Amazon Author Page
/
Website
/
Book Website
/
Facebook
Follow the Tour
Enter the Giveaway here