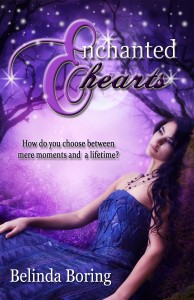 Enchanted Hearts by Belinda Boring
How do you choose between mere moments and a lifetime?
Aithne was raised on fairytales, spending hours daydreaming about meeting one of the elusive Fae. Little did she know, hidden in the shadows, a Fae Prince stood watching. All it took was one glance and Hadrian became enchanted, unable to stay away. Revealing his presence, Aithne's life was forever changed as her childhood fantasies of magic became a reality. With each encounter, Aithne fell deeper in love and even though she knew Hadrian couldn't offer her the future she craved, it was enough. That was until William, the local blacksmith's son and friend, stepped forward. Wearing his own heart on his sleeve, and eager to claim Aithne as his wife, there was nothing William wouldn't do for the girl he loved. Even if it meant risking it all at the Midsummer Night's festival. Buy the book:
Kindle
/
B&N
/
Smashwords
Author Bio: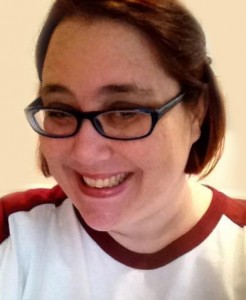 A homesick Aussie living amongst the cactus and mountains of Arizona, Belinda Boring is a self proclaimed addict of romance and all things swoon worthy. When she's not devouring her latest read, you can find her celebrating her passion for book on her blog The Bookish Snob. With all that excitement, it wasn't long before she began writing, pouring her imagination and creativity into the stories she dreams. Whether urban fantasy, paranormal romance or romance in general, Belinda strives to share great plots with heart and characters that you can't help but connect with. Of course, she wouldn't be Belinda without adding heroes she hopes will curl your toes. Surrounded by a supportive cast of family, friends and the man she gives her heart and soul to, Belinda is living the good life. Happy reading! Follow Belinda:
Website
/
Twitter
/
Facebook
It's All About The Swoon!
Follow the Tour
---
Here is my interview with Bels (who by the way is one of my favorite people on earth <3 <3)
1. Where did Enchanted Hearts come from?
The idea behind Enchanted Hearts came when I agreed to be part of the anthology, A Midsummer Night's Fling with my best friend, Lacey Weatherford, and her daughter, Kamery Solomon. The concept was to write a novella that involved the main character meeting the Fae and the Midsummer Night's festival. I wanted my heroine to be someone who'd always fantasized about what it would be like to be swept up in the magic of the Fae.
The first time I met Hadrian, the prince, I fell hopelessly in love with him and thought Enchanted Hearts would focus solely on Aithne and him. The beauty of writing is most times it's not me who's calling the shots. The story took a detour and William, the local blacksmith son and childhood friend, stepped forward to claim his own interest. It turned from a swoony encounter with fantasy to a heartfelt love triangle. Even I didn't know who would win until toward the end. All I knew was I loved the story and characters. Poor Aithne definitely had a hard decision to make but ultimately, her heart chose for her.
2. You are known as the Queen of Swoon, does that make you feel pressure to make your books extra swoony?
This is where my inner swoon-o-meter comes in handy. I remember when I first started out writing; someone gave me some very wise advice. When working on those romantic moments, if I'm not reacting and swooning, neither will my readers. So with each book, I pay close attention to how I'm feeling as I read over the story. Do I gasp, sigh, get butterflies, say "awwww" out loud, and get the funny feeling in my stomach? If not, I rework on the section. I think it helps that I'm also such an avid romance reader as well because I know what I like. Thankfully, I've been able to capture those feelings and transfer them to my readers. For me, SWOON makes everything better and there can never be enough!
3. What are you working on right now?
Right now, I'm working on my first ever New Adult Contemporary title called Loving Liberty. It's the story of a young woman called Liberty Montegomery, who feels she's the most misnamed person in the entire world. (besides me, of course!) All her life her parents have dictated her every move, but she doesn't have the courage to declare her independence from them. She quietly dreams of a life where she can live by her own rules. It just doesn't seem possible reality until she meets Oliver Nichols. He knows exactly how it feels to break away from family pressure and offers to help her find her courage. Liberty discovers a lot more than the bravery to stand on her own two feet … she just needs to decide what she's willing to risk for her freedom.

I adore this story and I'm excited to have others read it. Oliver makes my swoon-o-meter go CRAZY!!!
4. What has been your favorite book to write?
I don't think there's an absolute favorite because each has been such an amazing experience to write. Not to give an easy answer, but I would say whatever book I'm writing on because it's the one that has me completely invested—emotionally and mentally.
5. Do you have a favorite character from one of your books?
Hahaha you want to get me in trouble! I'm going to plead the fifth on this for the sake of my sanity. I always joke that my characters are alive in my head and that they like to talk amongst themselves. I can't imagine all the arguing, convincing, and strutting that would happen if I admitted I preferred one over the others. I love them all. They each have traits that endear me to them. I love spending time with each of them while I work on their books, and miss them when it's over.
6. Who do you like to read when you have free time?
I love reading anything that has romance in it! I have so many books on my TBR right now; I don't think I'll ever catch up. I read a wide range of romance and urban fantasy. The last book I read was Today Only by D Love and bawled my eyes out. I love stories that take my emotions and imagination hostage!
7. Salty or sweet snacks?
Once upon a time it was sweet snacks, but after surgery I don't have much of an appetite for sweet things. So I'll go with salty. I love potato chips!
Thanks for having me on your blog today, Jessica! MUAH!
Don't forget to enter the big giveaway!
a Rafflecopter giveaway